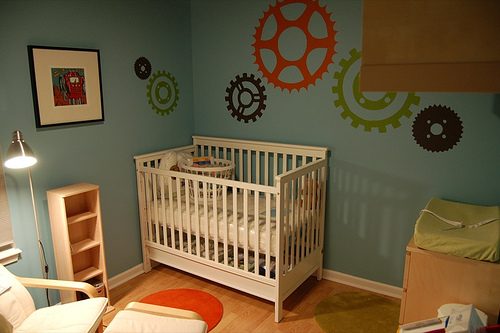 If our kiddo is a boy, I think I would like to give a little artistic shoutout to his daddy's engineer-type bend by throwing in a couple of gears.
For the record, I'm not a fan of themes. I'm not a fan of matching things (Mom can confirm this is true from her exasperation at trying to make me choose acceptable clothes to wear out of the house).
I am a fan of having lots of visual representations that reflect who we are. There's a lot more to Ryan than gears, which is why if we have a boy, there could be some references such as trucks, technology, camo, nerdy Internet meme references, blue prints, musical instruments, country or rock inspired what-have-you, earth-moving heavy machinery, even [play] guns, oh oh, even a Jimmy Buffet cheeseburger. All I am saying is, if our baby announcement has gears on it, please do not gift us with everything you see that is gear-related.
I am a fan of coordinating, not matching. I like a lot of colors, I would prefer everything to not be the same color. Even the same 3 colors.
Sorry, this post really isn't about gears. Maybe I don't like them now, afterall. lol, we'll see what Ryan says.
I have not seen a nursery that I am in love with. I think I can safely blame the themes. A theme takes over and everything matches disgustingly well.
Time to go... hello, weekend.